EYE-Photo Magazine, BIG EYE Photo Competition, Special Issue, April 2016
The special issue about BIG EYE Photo Competition is available now!
In just one month BIG EYE Photo Competition counted over 1200 participants from all over the world and nearly 800 photo submissions!!!
Featuring artists: Alperr Padiernos (1st place), Jeffrey De Keyser(2nd place), Ramani Sanjay (3rd Place), Miky Rutigliani, Go Muroiwa, Roza Vulf, Yuji Ishizaki, Dalina Andrei, Görel Löwe, Guy Le Guiff, Ilan Burla, Jimmy Lee, Youngjae Lim, Arman Tezcan, Tadashi Onishi, Ilan Ben Yehuda, P-o Alfredsson, Alexandre Duarte, Anil Aydin, Tito Junianto, Andreas Katsakos, Brian Villalongja, Christian Fabian Robotti, David Mar Quinto, Jem Mendoza Lumibao, Roy Rozanski, Tony Liviero, Dan Manasescu, Romeo Doneza, Do Hong Nhien, Orna Naor, Thanos Sav, Richard Huckett, Nilesh Mazumdar, Don Pagunsan, Keith Vaughton, Tim Huynh, Karlo Flores, Marie Ilford, Artur Stefanowski, David Bland, Gian James Gamones Maagad, Yuji Ishizaki, Tomasz Sarosiek, Vasco Trancoso, Karlo Flores and Leanne Jeyes
EYE-Photo Magazine is an independent, online magazine, providing a platform to talented and enthusiastic photographers from all over the world to present their work, regardless their genre, to an international readership.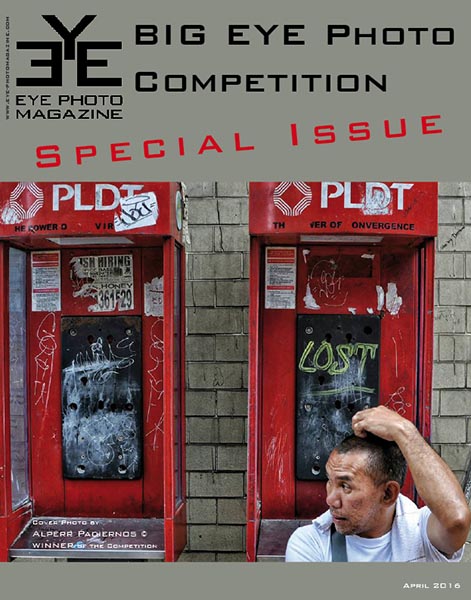 Read the magazine online here
Download the magazine for free:
Download File
See more here