About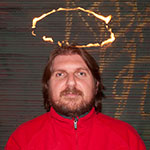 Andreas Katsakos was born in Larissa, Greece, in 1973.
He studied Photography at the E.S.P VET.
He currently works at the General Hospital of Larissa.
He has been practicing the art of photography as an amateur since 1996.
He has been an active member of the Larissa Photography Club (1997 - 2012) and the "Fotoporoi" group - founded by the Municipality of Eleftherio Kordelio Cultural organization - (2006 - 2008).
He has presented his photography work in many group and solo exhibitions in Greece and in various albums published by the LPC and the "Fotoporoi" photo group. His work has been published in photography magazines as the "Photo book", "Antilipseis", "Fotografos" and others.
In 2010 he co-founded the online photography magazine "fmag" (http://fmag.gr).
In 2013 he spun-off the creation of the "fplus" photo group (http://fplus.gr).
He has curated and organized many photography shows and events in the last years.
//andreaskatsakos.com
//photodiary.gr
//the-photographers.blogspot.com
//fmag.gr
Solo Exhibitions
2005, Body Parts // 1st Andros Photo Festival 2005, Korthi, Andros
2006, Travelling in the Aegean Sea // The photography at Thessaloniki's coffee bars., Cafe bar Cofix, Thessaloniki
2007, Touch Points // The photography at Thessaloniki's coffee bars, Cafe bar Cofix, Thessaloniki
2008, City Streets // The photography at Thessaloniki's coffee bars, Cafe bar Cofix, Thessaloniki
2008, Photo Diary // 15 years E.S.P., Cafe bar Astoria, Thessaloniki
2009, Photo Diary // The photography at Thessaloniki's coffee bars, Cafe bar Cofix, Thessaloniki
2010, Reasonless place // 1st Contrast Thessaloniki Photo Festival, MIET, Thessaloniki
2010, Reasonless place // November of Photography 2010, Giorgio de Chirico Art Space, Vοlos
2011, Reasonless place // Photographic Winter 2010, Cultural Centre оf Florina (cinema), Florina
2012, Touch Points // Photographic Society of Mytilene, Mytilene
2012, Reasonless place // Cafe bar Kaveh Kanes, Larissa
Group Exhibitions (selected)
2005, Photoshooting like Cinema // Winners of the foto art magazine photography contest. (Thessaloniki, Athens, Larissa, Karditsa, Lamia and Heraklion-Crete).
2005-2008, Photographic wordings // Participation in the photo exhibition by the Larissa Photography Club. (Katerini, Thessaloniki, Karditsa, Athens, Tirnavos, Volos, Mytilene, Patra and Larissa).
2006, Filming // Winners of photography contest of International Panorama of Independent Film and Video Makers. (Patra, Chrisoupolis-Kavala, Larissa, Kalavrita).
2007, Limits // 1st National Photo Exhibition of the Larissa Photography Club. (Larissa, Livadia, Lamia).
2007, Travelling in the Aegean Sea // Participation in the photo exhibition of "New Greek Photographers 2007", Kythera Photographic Encounters 2007.
2010, Faces // Winners of the Photometria Festival 2010 photography contest (Ioannina, Dromonero, Athens).
2011, Road Trip to Balkans // University of Illinois at Urbana-Champaign, Illinois, U.S.A.
2011, Permanent collections I // Olivepress Art Factory, Dromonero, Chania, Crete.
2012, First contact // Participation in the photo exhibition of the f5,6 photography group, Larissa Photography Club gallery hall, Larissa.
2014, Taf.ˈtɔ.ti.ta // Participation in the photo exhibition of the fplus photography group, Cafe bar Kaveh Kanes, Larissa
2015, Under construction // Winners of the of the OBSERVE Collective street photography competition, Städtische Galerie, Iserlohn, Germany
2015-16, Eastreet 3 // Street Photography from Eastern Europe, (Poland, Georgia, Croatia)
2016, Photo Diary // Participation in the photo exhibition of the Photography Group fplus, Mill of Pappas, 53 Georgiadou Str., Larissa
2016, Serendipity Street // Participation in the photo exhibition in Serendipity Arts Festival Goa 2016, Jardim Garcia d'Orta, Municipal Garden, Panaji, Goa, India